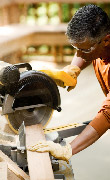 Going forward with big steps in the construction, Torus Engineering does not forget the beauty of the details and it does not deprive itself of the refined interior finishing.
Starting from their personal office space that is very modern and exclusive, one of the rare ones in our region, and going through all the other where the team of Torus has participated, the wish of the company to achieve something nice, qualitative and unique and to be always in line with the current trends, is fulfilled.
To all the needs of the clients for performance of construction, as well as construction-craftsman errands, the company deals with due respect until their finalization, and further on, with the guarantee which the company gives for the performance.